In the past decade or so, China has issued nearly 10,000 kinds of lottery tickets, and the number of color winning teams has expanded. According to incomplete statistics, at present, there are at least 2 million people who have collected more than 100 lotteries. However, few people know about the printing and packaging of lottery tickets. This chapter has done some superficial introduction on this topic.

Process dark anti-counterfeiting prevention

The issuance and approval procedures for the issuance of welfare lottery in China are very strict. They are highly authoritative, and their circulation, face value, specifications, etc. will not be arbitrarily changed once they are confirmed, nor will they be revised or reprinted. In order to prevent the buyer from forging a winning ticket, the lottery ticket generally needs to go through dozens or even dozens of processes before it can be printed. The most valuable of these is the implementation of the "process dark law" in the production of lottery tickets to ensure that no one (including printing manufacturers, ticket buyers, and China Lottery Distribution Center) can know the lottery tickets printed by the winning lottery ticket. The distribution situation prevented the picking of votes.

Anti-counterfeiting is to stop the counterfeiters from forging fake winning tickets. The purpose of the anti-picking is to ensure that each ticket purchaser has equal chances of winning. Even if a real-looking lottery ticket with genuine appearance appears, it can be identified quickly and easily.

It is said that in the past two years, Beijing Fengtai Fangzhuang District held sales of 20 million awards, using the newly printed Chinese Zodiac instant lottery tickets. Some Shaanxi and Northeast ticket sellers who claimed to be picky ticketers flocked to. The scene was turned for a week and a lot of money was cast. As a result, one big ticket was not singled out.

Lottery tickets are printed by designated manufacturers

According to insiders, in the past years, the printing of lottery tickets, like the printing of banknotes, has quite strict rules and regulations in production management, and has extremely high quality requirements in terms of plate making and anti-counterfeiting.
Ticket printers are generally printed by designated printers that specialize in printed securities, and some of them are printed on the lottery with the name and code of the manufacturer. For example, the major manufacturers of printing lottery tickets are: Beijing Printing No. 2 Factory (02), Shijiazhuang Offset Printing Factory (04), Guangzhou Dongfanghong Printing Company (05), Beijing Guangcai Printing Center (06), etc. They have different characteristics and advantages in printing different types of lottery tickets.

Hong Kong: Cigarette packaging must print warning images from next year

Hong Kong will implement the smoking ban from next month and smoking will be completely banned in public places. The government requires that a warning image be printed on the cigarette package.

According to the Asian News Network, starting from October 2007, all Hong Kong marketed tobacco products must have a warning image stipulated by the SAR Government. The illegal retailers and manufacturers are liable to a maximum fine of 50,000 yuan upon conviction.

One of the people said, "He may think that smoking may be like this or something, and it may also be a deterrent effect."

Cigarettes are to be printed with warning images. Even cigars are no exception. The person in charge of the cigar shop said that there may be problems in implementation. "We have more than 300 kinds of cigars in the shop. You can see that there are more than one pack in size."
Other tobacco companies also require that the image be printed on only one side of the package, or that the date of implementation be postponed.

An official from the Hong Kong Department of Health said, "If there is no image on the side of a retail product display, smokers or purchasers may not necessarily see it. In fact, we want the image to serve as a reminder to let them know the scourge of smoking."


Reproduced from: pgnpg.com
Non-Stick Oven Liner has a superior Non-stick surface, could resist heat up to 500F, and is dishwasher safe.
By using this mat, the oven would never need to clean, and this liner is also very easy to clean, simply wash it with warm soapy water would be enough.
This Oven Liner is FDA & LFGB & CA65 Certificated, and our factory is BSCI Audited.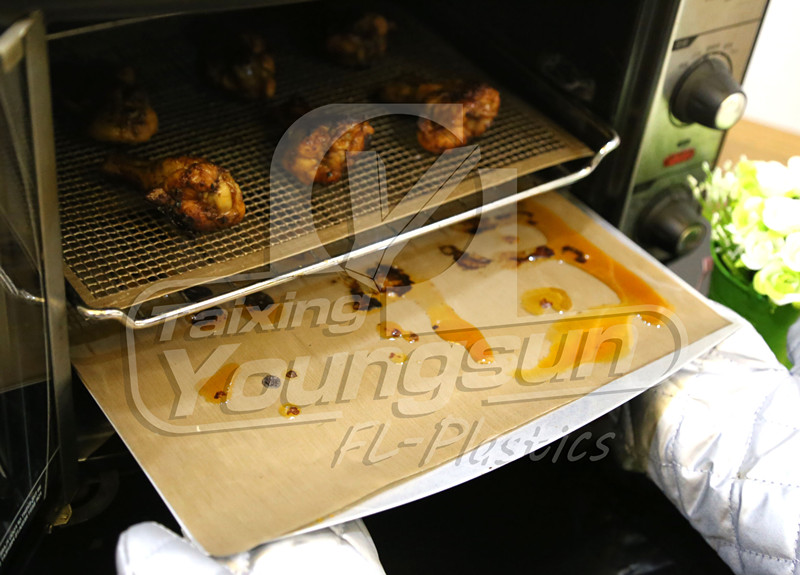 Non-Stick Oven Liner & Baking Liner
Non-Stick Oven Liner,Non-Stick Baking Liner,Oven Mat Liner,Oven Bottom Liner
Jiangsu Esone New Material Co,.Ltd , http://www.cookware-manufacturer.com