The collection value, artistic value and educational value of stamps are believed to be known to everyone, but do you know the artistic value and educational value of flexible packaging?
If you want to ask where the greatest difference in appearance between the commodity of the early 1980s and the current commodity is, you must say: "Of course it is packaged." Whether it is flexible packaging (the type and quantity of soft packaging at that time were few) or hard packaging, it was very simple in the 1980s, not to mention the value of packaging design, packaging creativity, and packaging education. Today's packaging, especially flexible packaging, can change with each passing day. When you enter the supermarket or shopping mall, dazzling food soft packaging attracts the most attention to ladies and children. Such as instant noodles, plum, dried tangerine peel, potato chips, peanuts, seeds and other flavors of small food packaging is dazzling. This shows that the rapid development of flexible packaging.
Today's flexible packaging not only materials stress, beautifully printed, and different foods use different composite materials, o into modern packaging technologies, such as vacuum packaging, aseptic packaging, cooking packaging, etc., enough to meet the various needs of people on food.
At present, although some soft packaging on the market has artistic value, it lacks educational value. A small, soft-packed bag looks simple, but it is not simple. It has several functions: it protects the goods; it secondarily embodies the goods; and its three functions as educators. For example, a flexible packaging design worker can package and design drawings that educate children or adults. Some products are printed with the pattern of the Great Wall of China, which is undoubtedly a kind of history and culture education; some products are printed with environmental protection propaganda patterns, designed to educate people not to throw things at random, waste should be thrown Go to the trash.
At present, most children's food flexible packaging is painted on animated figures or animals. This is designed by the packaging designer to cater to the children's preferences, but it must not be designed to kill and kill violent images.
In short, soft packaging, like stamps, can show many things. However, the urgent need to improve is the artistic value and educational value of China's flexible packaging. This is also one of the most important tasks for flexible packaging designers.
Reprinted from: (China Packaging News)
Drawer paper boxes are known for its drawer shape .
There are two parts for the drawer box , one is the outside sleeve and the other is the inside drawer .
In order to pull out the drawer more easily , inside drawer are always designed with ribbon rope , finger die-cut or metal handle. In general , most of match boxes and soap boxes are drawer boxes . Apart from that , sliding drawer boxes are also widely used for cosmetic, garment , jewellry and food industry .
It's popular to have a clear window for drawer box to display the inside items , and the window can be die-cut to various shapes such as square , round , heart or etc-..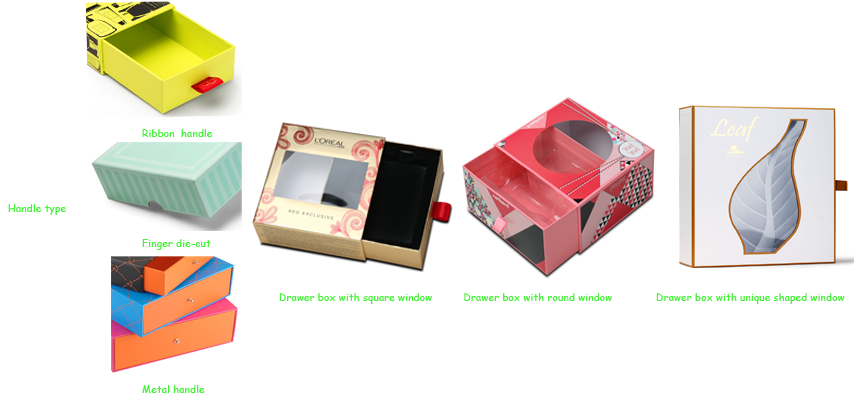 Payment Term
:
30% deposit , 70% balance before delivery .
Maximum production cap
acity :
500K per month
.
Sample lead time:
7-8 days.
Should any projects on drawer boxes be of interest to you , please feel free to contact us for a quotation , thanks .
Sliding Drawer Paper Box
Sliding Drawer Box,Storage Paper Box,Multifunctional Paper Box,Paper Drawer Box
Huizhou Cailang Printing Products Co.,Ltd. , http://www.paperboxs.nl