The upstream property market regulation policy is not loose, how should downstream home furnishing companies respond? At the China Home Development Annual Meeting held on SouFun on December 2, more than 100 CEOs including Ye Zhifeng, Hongxing Meikailong, Shengxiang and TATA Wooden Doors cut through the new channels, new models and new fields, and proposed channels. Sinking, model innovation, and extending the home industry chain and other "self-help" new tricks.

New channel:

Main attack on third- and fourth-tier cities

Along with this year's property market restrictions, the volume of transactions continues to fall, and the figures on the performance of many home furnishing companies are not satisfactory, forcing them to constantly seek new profit points. On December 2nd, at the China Household Development Annual Conference held by SouFun.com, some companies clearly proposed starting from new channels.

"I agree with one sentence, one meter wide and one hundred meters deep, meaning that there is a characteristic of vertical development, so I have two non-stick: First, I am determined not to open the factory, and I have already put the profit of more than 3 million yuan. The factory is closed; the second is to resolutely not act as an agent. No decoration material is our own agent." Zhang Zhi, chairman of Yezhifeng Decoration, pointed out that the next step of the industry will focus on the third- and fourth-tier cities, and next year will be in these places. Open dozens of new direct sales stores.

Red Star Macalline, which opened in more than 60 cities across the country, is still expanding this year and is focusing on developing remote provincial capitals and second- and third-tier cities. "In Yinchuan, the 120,000-square-meter shopping mall has completed the business in two days; in Xi'an, the two new stores with a total of more than 200,000 square meters are also completed in one week, which reflects the need for us in the second and third-tier cities." Red Star Wang Wei, general manager of Meikailong Jinghu & Southwest District, believes that the first-tier cities that are currently saturated are currently subdividing demand and taking specialization and specialization.

New mode:

Opening up new markets for e-commerce

Fifteen years ago, young people bought a bed 1.5 meters wide, enough to pay attention to it; 15 years later, the bed is generally 2.2 meters wide, and also hope to bring audio or video equipment. This shows that household demand has changed from improved to comfortable. Along with this, the customer's shopping model has also undergone fundamental changes. At the forum, the CEOs of Jiumu Sanitary Ware and TATA Wooden Door are all optimistic about the new model of e-commerce, which is intended to open up new markets from here.

"Traditional channels have been done very well. If there is someone who retires from the home of Red Star Macalline, Jiu Mu will definitely pick up the new store." In the view of Zhang Bin, deputy general manager of Jiumu Sanitary Ware, this piece of e-commerce It started to get involved in the second half of this year, but the beginning of the innovation of the business model, the initial test results are good. "We sold 400 million yuan in the second half of this year with Taobao. In the "Double Eleven" event held by Taobao, our sales were 3.3 million yuan. The accumulation of this amount can be imagined."

Although from the beginning of 2008 to use the network for marketing, to play well, but TATA wooden door chairman Wu Chenxi believes that this is just online publicity. In 2010, TATA made a complete electronic order system, harvesting more than 20,000 orders in a short time. Because of the inability to pay, Wu Chenxi does not recognize this as e-commerce. Until April 20 this year, TATA Mumen's online store was officially launched, and nearly 20 orders were sold in 20 days. Wu Chenxi was only smiling. "I am very excited to see this data, but the service capabilities will improve after the year, including financial systems, information systems, feedback, tracking, etc."

New Field:

Extend the home industry chain

"I often hear people say that the change is looking for death, the unchanging person is waiting to die, I think it is the truth to change the immortality. As the market changes, the product structure of the enterprise is changed, and the industrial chain is extended, which is good for development." Lin Xinda, chairman of the top solid closet It is to expand new areas of products. In fact, like Dinggu, companies such as Faenza sanitary ware and Shuxiangmen floor have begun to expand the industrial chain to meet the needs of consumers.

Yan Bangping, general manager of the Faenza business unit, who started the sanitary ware, bluntly said that when Faenza developed a certain scale, it launched the whole home bathroom and produced all the supplies in the bathroom. "The overall matching of sanitary products can make consumers more worry-free in collocation and use." Bu Lixin, chairman of the book, who has developed for 6 years, admits that from the first day of entering the flooring industry, he decided to live in multiple industries. Make your own wonderful. "Now the flooring products have been paved into more than 200 cities across the country, and we may enter the wooden door industry in the next two years."

"In the past, we were all single-product marketing, and the products were sold one by one. This model is difficult to achieve continuous development, so we proposed a total solution model, and try to provide all the products needed in the kitchen and bathroom." Yamamoto Chairman, Yamamoto Akira said.

Li Bingren, president of the China Building Decoration Association, analyzed that many external environments, such as real estate regulation and control, and monetary policy, have an impact on the building and decoration industry. Enterprises should adjust their business structure in a timely manner, refine project management and prevent market risks. He predicted that the current market is a watershed for home furnishing companies, and some companies may stop at this stage.
All the Compostable Shopping Bags can be fully degraded, and have passed the American ASTM-D6400 and EU EN13432 compostable certification Standard test. Our Compostable Bags are made of 100% biodegradable resin as raw materials, free of plastic, non-toxic and harmless.
Bury the compostable shopping bags in the soil, or bury them in the environment with microorganisms.
The compostable bags can degrade 100% into carbon dioxide and water in 3 months and become organic
fertilizer without white pollution.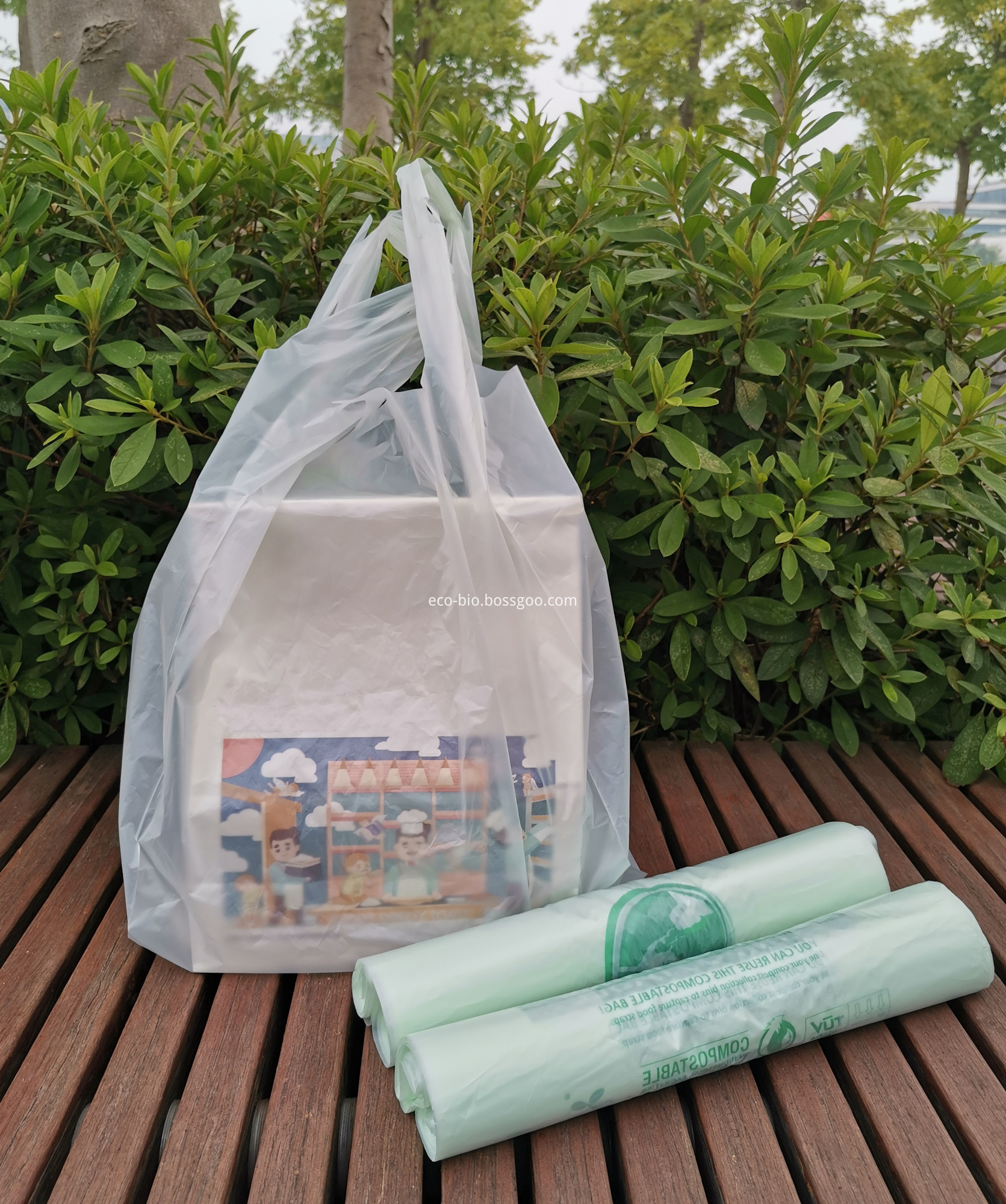 Compostable Shopping Bags
Compostable Shopping Bags,Compostable Waterproof Shopping Bags,biodegradable reusable bags
Ningbo ECO Biodegradable Technology Co., Ltd , https://www.chinabiodegradable.com