On June 27th, the "First Solid Wood Home Life Experience Exhibition" was held at the Beijing International Exhibition Hall. At the event, our reporter interviewed Mr. Zhu Changling, the chairman of the China Furniture Association, and asked him to introduce the development trend of solid wood furniture in the future to Shanxi consumers. Zhu Changling also made a professional explanation on some misunderstandings in the purchase of furniture by consumers.
China is the largest country in furniture production
Step into any high-end home store in the provincial capital, Europe and the United States supreme sofa, British royal furniture, Mediterranean romantic home, North American original mattresses and other internationally advertised furniture products, especially the price of "local tyrants" imported furniture is more than 10,000 people Eyes. Furniture is like the popular department store. The greater the consumer's pursuit of international quality, the more "X×Sisi", "Xi" and "××菲" in the market. In the provincial capital, there are also consumers who like foreign brand furniture. "In fact, China is the world's largest furniture producer." Zhu Changling said that the development of China's furniture industry is relatively young, but it is developing rapidly. There are more than 70,000 furniture manufacturers in China, and the output value of furniture accounts for 1/4 of the world's exports. The export is the world's number one. In 2013, the output value of China's furniture industry exceeded 1.2 trillion yuan. 80% of the world's countries and regions import furniture from China. IKEA, which is familiar to Chinese people, has 21% of its products processed in China.
The reporter learned that the international furniture industry will hold many industry events every year, such as the Italian Furniture Fair and the American High-end Furniture Fair, which will show the global fashion trends and new products to global furniture companies and sellers, but at these events, See Chinese furniture brands. Zhu Changling said that the development of modern furniture production in China has been developing rapidly in the past 20 years, but the industry still has problems of immature and low concentration. At present, Chinese furniture companies also attach great importance to original design, and are developing towards branding. The share of the global furniture market has increased year by year, and the quality has also moved closer to internationalization.
Solid wood furniture into a modern necessities
In the past two years, solid wood furniture has been increasing its market share year by year due to its advantages of environmental protection, practicality and strong plasticity in design. The area of ​​solid wood furniture monopoly area in the provincial city home store is also expanding. According to Zhang Yuhong, general manager of Shanxi Lishige Furniture Co., Ltd., the company has held a solid wood furniture culture festival every summer for 6 consecutive years. The number of participating furniture brands has increased year by year, while the performance of solid wood furniture transactions is 20% per year. Increment. From July 12 to 27 this year, the 7th Solid Wood Furniture Culture Festival of Lishige will be opened. Nearly 200 first-line solid wood and mahogany furniture brands will participate in the event. "Solid wood furniture will become a necessity for people's lives." Zhu Changling said that from the feedback of domestic furniture manufacturers, the era of branding and grouping of solid wood furniture in China is coming. Solid wood brands such as Huari, the Federal, and the Top 100 combine the needs of consumers to launch a variety of styles to meet the needs of consumers of different ages. Consumers choose solid wood furniture to strengthen the brand's adhesion, and there is no brand influence on the furniture, the market appeal is obviously weak.
In addition, affected by the economic situation and national policies, from 2013 to the present, the solid wood furniture sold in China's market pays more attention to practicality and design. In terms of quality, China's furniture enterprises have the most advanced production equipment in the world. Furniture production is first-class in materials application, painting technology and structural technology. From the popular style of solid wood furniture, solid wood furniture is still dominated by Chinese style, supplemented by American and European traditional furniture.
In the past two years, there has been a significant change in the production of furniture in China, that is, the variety of wood is abundant. For example, white oak, red cherries, walnuts from the Americas, as well as African eucalyptus, rosewood and other woods have good hardness and pattern, which brings more possibilities to furniture design.
Solid wood furniture highlights cultural values
Solid wood furniture is welcomed by consumers and is closely related to the improvement of people's living standards and the improvement of environmental protection and health concept. Zhu Changling said that people's living standards are improved, economic conditions are plentiful, solid wood furniture materials are more precious, can reflect personal economic level and social status; secondly, the main material of solid wood furniture is natural wood, using less glue, paint and other accessories, generally speaking The amount of formaldehyde released is less, and it is more environmentally friendly and natural.
Zhu Changling believes that in the era of hand-made furniture, people are used to making furniture with wood, and with the improvement of industrial production level, wood-based panels have entered thousands of households due to cost savings and high production efficiency. In recent years, the return of solid wood furniture consumption demand, in addition to the natural and economic value of natural wood, the improvement of processing technology, also gives the cultural value of solid wood furniture.
Zhu Changling said that in the era of e-commerce pervasive, the marketing channels for solid wood furniture are more abundant. The physical store needs to bring more solid wood furniture cultural life experience to consumers through flexible and rich marketing methods. The culture of Shanxi merchants has a long history, and the furniture culture in Shanxi is rich and rich. However, the market influence and product quality of Shanxi furniture manufacturing enterprises still need to be improved. The local furniture culture in Shanxi needs to use the power of excellent furniture stores such as Lishige and Real Home to do more in-depth promotion.
A chain is a serial assembly of connected pieces, called links, typically made of metal, with an overall character similar to that of a rope in that it is flexible and curved in compression but linear, rigid, and load-bearing in tension. the chain with different materials, different sizes and different styles, whether you are looking for cheap or expensive chains, we can meet your requirements.
Now that the handbags with chain shoulder strap has become the mainstream of fashion. fashion critics say: the girls with the chain handbags don't have to think about how to match it, and don't need special styling instructions, because it's so accessible and stylish, it's a girl's pet.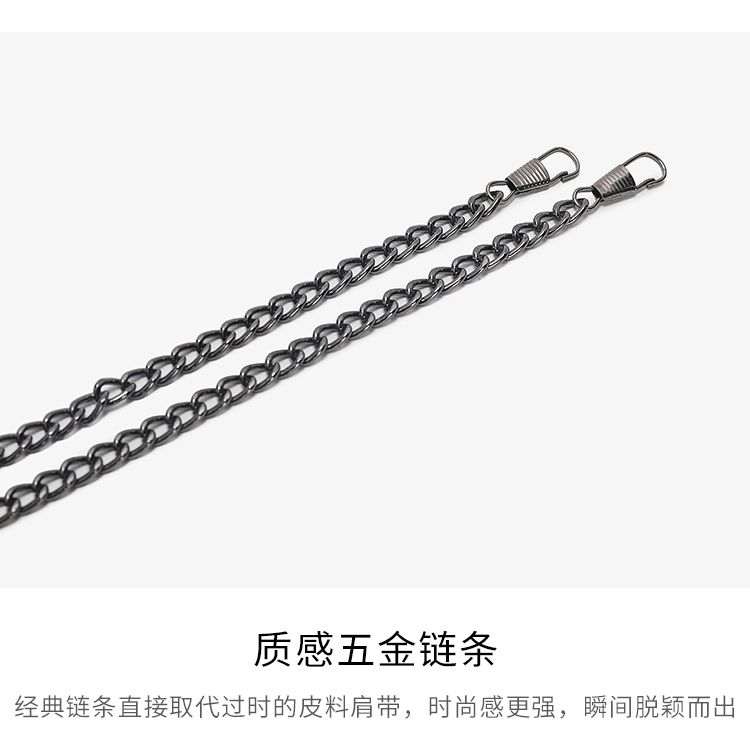 Metal Chain,Pure Gold Chain,Gold Waist Chain,Black Metal Chain
Guangzhou Jerryan Leather Co.,Ltd , https://www.jerryanbag.com